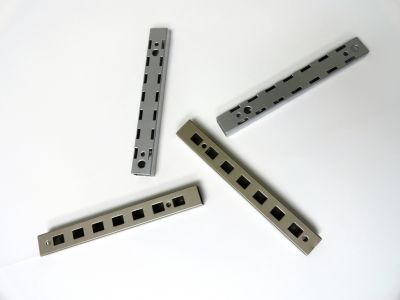 The decision to use Powder Coating or Liquid Paint is a tough call, both options have their advantages over each other, but when it comes to offering high quality, durable products Powder Coating is the way to go. There are many reasons to choose Powder Coating over Liquid Paint such as the lower environmental impact, and the long term durability of the product.
Powder Coating contains no solvents, and releases virtually no volatile organic compounds (VOCs). This makes it better for the environment because of the fewer hazardous materials. It's also better for the people who work with the powder because it can be easily washed off, and they aren't exposed to as many harsh chemicals. Powder is also recyclable; therefore any unused powder can easily be collected and reused, causing less waste for the environment. You are also allowed a larger range of effects and finishing's with Powder Coating versus liquid paints. With Powder Coating you can achieve a glossy, matte, textured, satin, smooth, metallic, soft touch, or wrinkle appearance, providing customers with a wide range of options. Powder Coating produces a controlled film thickness that provides a uniform coating. It also offers unique flexibility properties, so if the part is bent the coating won't chip off, like it does with traditional liquid coatings.
When it comes to durability, liquid paint doesn't stand a chance against Powder Coating. Powder coating can withstand all types of abrasive chemicals, salt spray, humidity, and corrosive environments. It is also heat and UV resistant, making it ideal for both indoor and outdoor applications. The durability of Powder Coating is unmatched compared to liquid coatings, and Powder Coating lasts longer than liquid paint, providing superior protection for a longer period of time.
There might be some cases where liquid coating is going to be the best option for a specific project, but when considering the added benefits that Powder Coating provides, Powder is the best option for all projects. The benefits that Powder Coating provides, such as the lower environmental impact, increased durability, and various uses, make Powder Coating our most requested coating.