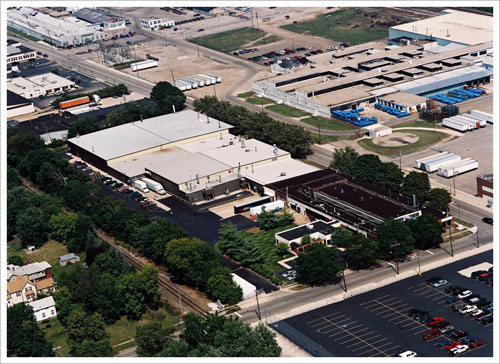 Wright Coating Technologies has been a specialty coating applicator in Michigan since 1979. Our capabilities are suited to serve all industries including electric vehicle (EV), aerospace and marine, alternative energy, appliance, automotive, consumer goods, metal fabrication, fitness equipment, and office furniture with any of their coating, assembly, or secondary operation needs.
Wright began as a small company, dip-coating parts with vinyl coatings. We quickly outgrew our facilities and moved to our present location. Today, Wright has a 100,000 sq. ft. manufacturing facility employing about 100 people.
Our quality system is ISO 9001:2015 certified.
Wright Coating is proud to be one of the select companies that are approved as a Rilsan® Polyamide 11 (Rilsan Nylon11®) applicator in North America.
We operate six coating lines, that consist of our computer-controlled of fluidized bed dip, three electrostatic spray lines for proper scaling to each Powder Coating job, and two spray lines for our specialized coating processes.
Our core strengths include our Commercial Powder Coating, CoPolymer PE Coatings, and precise Nylon application. We apply traditional Powder Coatings in addition to our proprietary process of Powder Coating Plastics. We also apply a wide range of other coatings.
Wright is most effective in situations when:
The customer depends on the coating we apply to enhance performance of their coated part.
The part is difficult to coat due to its complexity.
The customer wishes to outsource supply chain activities such as inventory management, control, and assembly.
Powder Coating Plastics: ClassicKote
Applying a controlled thickness nylon coating: Wrylon

For more than 40 years, Wright has provided customers with the technical expertise and personal service they expect.
Research and development support
Recommendations for difficult problems
High quality parts at a reasonable price
Quality control and inspection
Quick turn-around
On-time shipping
Alternative coatings for cost reductions and enhanced performance
Value-added assembly and finished goods packaging
When you choose Wright, you are choosing high quality applications, unique coating options, and quick production. As a specialty coating applicator in Michigan, we provide powder coating services and other applications for companies in Grand Rapids, Lansing, Chicago, Ohio, and more. If you have any questions, contact us or request a quote.