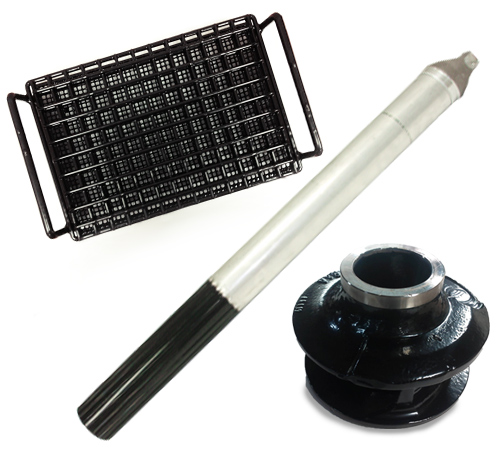 What is Nylon coating?
Nylon (polyamide) powder coating is widely used to protect a variety of metal substrates such as steel & aluminum. It is applied either electrostatically or in a fluid bed. It protects a wide variety of applications from corrosion to impact and abrasion. Nylon coatings are thermoplastic polyamide coatings and are under the category of 'protective coatings' in paints and coating nomenclature.
Specialty Nylon Coatings
Our Nylon 11 Coatings (Rilsan Nylon 11®) are a polyamide that is naturally derived from vegetable oil (Castor Beans). We choose to use Nylon 11 coatings because it has a low environmental impact, consumes less non-renewable resources when produced, and has a superior thermal resistance. It is used in high-performance applications such as automotive, office furniture, and appliances. Nylon is the material of choice for the most demanding applications due largely to its unique combination of thermal, physical, chemical, and mechanical properties. Together, the result is an outstanding cost-performance ratio. Another unique quality of Nylon is that it meets autoclave requirements, making it ideal for any industry.
Wright Coating's proprietary Wrylon process produces a controlled thin-film thickness Nylon 11 that can be used in tight tolerance applications to resist impact, corrosion, and chemicals. We are able to handle small parts and sizes up to 30" x 48" x 20".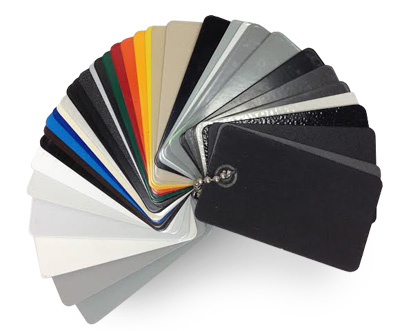 Nylon Coating Advantages
Nylon coating for metal offers an exceptional combination of critical physical properties including:
Noise Reduction (NVH)
Abrasion Resistance
Chemical Resistance
Dimensionally Stable
Excellent Corrosion Resistance
High Impact Resistance
Very Low Surface Friction
Inexpensive Solution to a Difficult Problem
Eliminate buzz, squeak, & rattle (BSR)
Slip characteristics create a "self-lubricating" effect
Oil and fluid Resistance
Protects against UV exposure
Wright Coating Technologies is an ISO 9001:2015 registered coatings applicator that places a strong emphasis on meeting and exceeding expectations. Instrumentation is calibrated by our staff and kept in the quality department's temperature-controlled area to ensure quality nylon powder coatings.
Technical Information
Nylon is a high-performance technical polymer that was developed in 1942. Derived from a series of complex chemical operations, Nylon (Rilsan nylon 11®) is one of the few polymers produced from a 'green' raw material - Castor Beans. Nylon resins have earned a preferred status in the most demanding applications due to their excellent combination of thermal, physical, chemical, and mechanical properties which result in an outstanding cost-performance ratio. Nylon stands alone in delivering exceptional performance across the broad spectrum of key physical properties. Following is more about the performance and physical properties of Nylon coating:
Chemical/Corrosion/Abrasion/Impact resistance
Flexibility
Durability
Electrical Resistant (Dielectric Properties)
You may wish to refer to this table to identify the most appropriate coating for your application: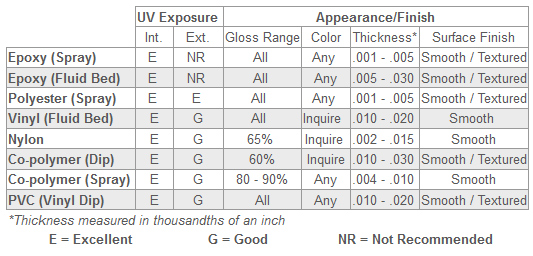 Nylon 11 Coating Services
Wright Coating is proud to be one of the select companies that are approved as a Rilsan® Polyamide 11 (Rilsan Nylon11®) applicator in North America. Arkema is the sole producer of these materials. For more information on Nylon 11 Coatings and our Nylon coating services, contact the team at Wright Coating Technologies today!.

Application Methods
Electrostatic and fluid bed application methods are great when you need a functional and strong coating.
When we apply our Nylon coating electrostatically we spray the part with a dry powder that is fluidized with air and then is post cured. Electrostatic Spray is generally applied at a thickness ranging from 1.5 – 15 mils (thousandths of an inch).
The Fluid Bed Nylon coating is applied through a dip process where the part is preheated and dipped into a dry powder that is fluidized with air and then post cured. Fluid Bed vinyl is generally applied at a thickness ranging from 5 to 40 mils (thousandths of an inch). Typical coating application temperatures are usually in the range of 180°C to 250 °C (360 to 480 °F).
Nylon based powders are recommended for both interior and exterior applications.