We are able to coat a variety of metals and plastics with high quality and accuracy.
What Wright can do for you:
Fluidized Bed Dip
Vinyl Dip
Heat Resistance Coatings
Protective Powder Coating
Substrates:
Plastic Compounds Coated
OMNI PA6 GR30NA
35% LGF nylon 6 GE PDX-P-00700
43% SGF nylon 6 Omni PA6 GR43 EF NA
33% glass-filled nylon 66, BH polymers
14% glass-filled nylon 66, DuPont Zytel 8018HSBK085
Ultramid® 8233G HS nylon 6 glass filled
33% GF nylon 6 DSM Akulon J-3/30
Omni PA6 GR33 NA
Omni PA6 GR33 BK2000
30% Natural GF nylon
Omni PA6 GR30 NA
30% GF PA6 DSM K224G6U
TP composites
Elastoblend® nylon PA6/6, 6 IML
Elastoblend® nylon PA6/6 HI BK Nylon 66
Maxamid™ EPDM 206-BK10
Nylon 6 Omni PA6 GR30 NA
Omni PA6 33% glass-filled nylon (DSM Akulon K224-G6U)
Metal Compounds Coated
Aluminum
Stainless Steel
Magnesium
Most Ferrous and Non-Ferrous Materials
Steel
Sand Castings
Permanent Mold Castings
Chemical/ Thermal Stripping:
Chemical Stripping allows us to offer the removal of previous coatings without subjecting delicate items to high temperatures.
Applicable Substrates: Aluminum, Magnesium, Plastics
Thermal Stripping provides an efficient, time-saving method of removing previous coatings on steel products, which allows us to offer a quicker turnaround for items requiring shipping.
Applicable Substrates: Steel, Case Hardened Steel
Services We Offer:
Thermal Stripping
Chemical Stripping
Benefits from our Coatings:
Heat Resistant
Chemical Resistant Powder Coating
Corrosion Resistance
Protective Nylon Coating
UV Resistant
Durable Powder Coating
Low Friction Powder Coating
Protective Powder Coating
Finishing's Available:
Wrinkle Powder Coating
Textured Powder Coating
Clear Coatings
Veins and Hammer Tones Coatings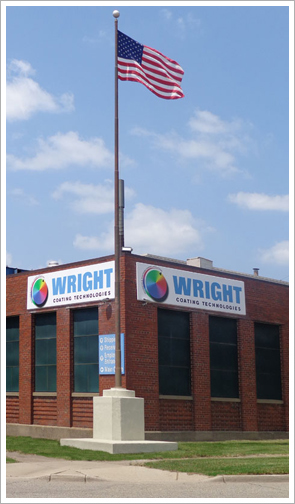 To learn more about our industrial and commercial powder coating capabilities, contact the team at Wright Coating Technologies today!