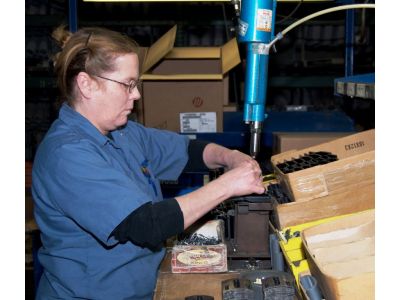 For more than 37 years, Wright Coating has provided customers with technical expertise and personal service while consistently aiming to exceed our customers' expectations. Wright partners with our customers to assist in their various coating needs and provides a variety of additional services to add value for our customers.
Finished Assembly
Wright has years of experience in finished assembly. We make sure we meet our customers' specification requirements amd know that when a part is coated it often requires secondary operations. We are able to improve supply chain efficiency when the manufacturer turns over the assembly. In most cases we procure the component parts, apply coatings, assemble, pack and ship to the customer. We can also ship directly to your customer if you prefer.
Thickness
In certain applications, coating thickness is absolutely crucial. If that is the case for you, we will custom design our application procedure to meet your exact specifications. We consistently meet a tolerance of +/- 1.5 mil.
Masking
There are many surfaces that should not be coated, including the surfaces of many parts you need us to coat. Fortunately, we are able to design in-house custom masking for any design applications that you require.
Tooling
Not surprisingly, the orientation of the part on the line is the number one factor in maintaining an accurate and consistent coating application. This could involve fabricating and designing coating fixtures and tooling. We have engineers who are ready to use CAD and create your custom tooling fixtures.
Our capabilities at Wright are suited to serve all industries from furniture to automotive with any of their coating, assembly, or secondary operation needs. We have been in business since 1979 and are constantly adapting, growing, and making sure our customers' expectations are not only met, but exceeded. If you're looking for a trusted, proficient partner that can provide high-quality coatings that meet your needs, give us a call, we'd love to hear from you.