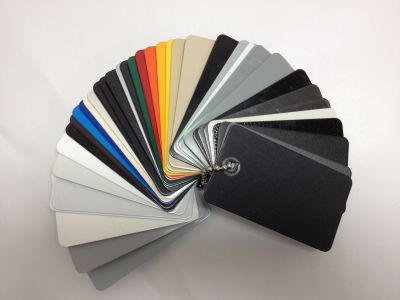 As some of our regular visitors may have noticed, we've recently added a comprehensive powder coating color chart to our website. From the dusky hues of azure blue (RAL 5009) to the cheerful notes of heather violet (RAL 4003), we now have an online listing of the powder coating color options available here at Wright Coating.
So, what are the benefits of powder coating? Well, first and foremost, it helps protect your product from harsh and abrasive environments. Because powder coating is thicker than conventional liquid coatings, like wet paint, it is more durable and lasts longer than those other options. It also exhibits fewer variations in appearance when viewed at different angles than liquid coated items. This means your product won't just look nicer, it will look nicer longer. As a result, the longevity of your products will increase and customers will soon interpret your chosen powder coating color as a mark of quality.
Custom powder coating doesn't just improve the durability of your product, either. Using virtually any color, powder coating makes your product stand out from other competing products. If you have an established brand identity – or a product style guide – then you already know the importance of reinforcing your brand's logos, typefaces and – of course – colors. Powder coating is a great way to make your brand's product stand out on store shelves. In the same way that we see a specific shade of robin's egg blue and think of a prolific jeweler, you can leverage the power of color to add an iconic, instantly recognizable element to your products.
At Wright Coating Technologies, we're always looking for ways to make our customers' lives easier in any way we can. By providing an online catalog of powder coating color options, you can now form a clear picture of your completed product. Not only that, you can take inspiration from the many colors available and, if needed, begin forming your product's – and brand's – identity. If you'd like to learn more about the colors that we have available or our powder coating processes, please Contact Us today!