Wright has more than 35 years of experience in coating with plastisol. Plastisol is a PVC (Polyvinyl Chloride) material. As the plastisol coating is heated, it gels and fuses into a homogenous bond. When the PVC powder coating cools, it is highly regarded for its physical properties and chemical resistance. We have the ability to handle small parts up to 16" x 32" x 12".


What Is Plastisol Coating?
Plastisol (PVC dip) coatings are thermoplastic polymer coatings under the category of 'protective coatings' in paints and coating nomenclature. Even though Plastisol is a PVC - type coating, it has a soft, almost rubberized texture. PVC Plastisol powder coating is used to protect a wide variety of metal substrates, such as steel and aluminum, in applications ranging from corrosion, high-impact impact, and abrasion.
Plastisol Coating Advantages
Projects can be scaled to meet small, custom requirements as well as high volume production.
Plastisol Coating is preferred for vibration damping, soft feel & look
Plastisol Coating protects metal against impact and abrasion
Plastisol Dipping finishes range from high gloss to matte to subtle textures
Substrates include aluminum, steel, and High Heat Engineered Plastics
A wide variety of colors available
Custom-formulated coatings are available to meet harshness, flexibility and tensile strength
Technical Information
Performance Properties
The PVC powder coatings we apply can be used to meet a variety of performance requirements based on your particular needs. You may wish to refer to this table to identify the most appropriate coating for your application: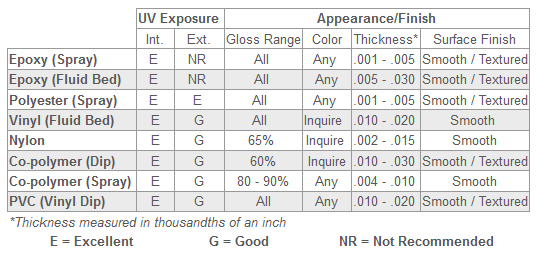 For more information on our plastisol coating services, contact the team at Wright Coating Technologies today.
Application Methods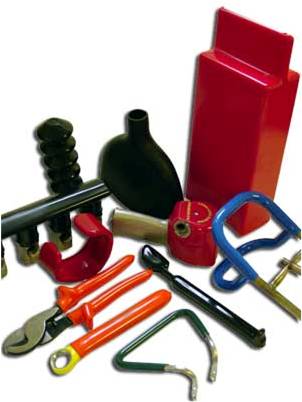 Plastisol (PVC)

PVC (Dip/Fluid Bed) – The Dip Plastisol coating process is generally used when a part requires a thicker coating and/or a "dip to line" where only specific areas of the part require a coating of 10-250 mils (thousandths of an inch). This is applied through a dip process where the part is preheated and dipped into a liquid tank of PVC and then post cured.
PVC Fluid Bed process is powder generally used when a part requires a thinner coating. It is applied through a dip process where the part is preheated and dipped into a dry powder that is fluidized with air then post-cured at a thickness of 5 – 30 mils (thousandths of an inch). PVC powder coating application temperatures are usually between 180 to 250 °C (360 to 480 °F). PVC Fluid Bed based coatings are recommended for use in both interior and exterior applications.