High-temperature Powder Coating is a series of silicone-based functional coating providing excellent heat resistance, corrosion resistance, and high color retention. This coating is designed to excel in harsh environments, such as in the automotive and industrial industries. It has superior corrosion and abrasion resistance and has been tested in these rough environments. The heat resistant coatings can withstand heat up to and over 1100°F. This protective Powder Coating can withstand many types of degrading environments and is available in various colors. It has been tested to resist over 240 hours of salt spray and humidity. After vigorous testing the parts still retained most of their color and gloss. Not only did the parts withstand the harsh testing, they were still strong and the coating showed no signs of cracking or degrading. The materials we use are either epoxy, polyester or a hybrid of them. This application is ideal for grills, exhaust pipes, automotive splines, stoves, lighting fixtures, muffles, generators, and many more. It is also available both in smooth and textured applications.
Heat Resistant Power Coating Services
Technical Information
Protective temperatures ranging from 450°F up to 1200°F available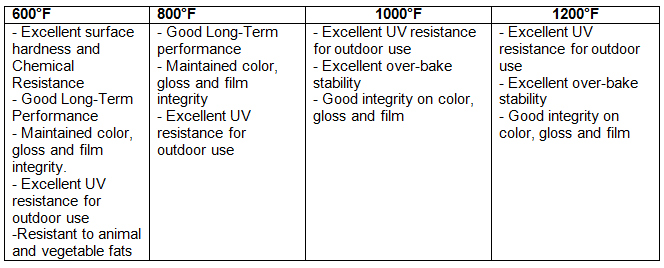 Application Methods
Our heat resistant Powder Coatings are applied electrostatically. Electrostatic spray Powder Coating is applied through a spray process where the part is electrostatically sprayed with a dry powder, fluidized with air and then post cured.